POLAR SALON LIBEREC 2022
6th International Polar Philatelic Exhibition
The Polar Salon is an international "worldwide" polar philatelic exhibition that takes place in various parts of the world every three years, mostly as part of national or international exhibitions. Organizing Committee of European Stamp Exhibition LIBEREC 2022, z.s. together with the clubs of polar collectors decided to organize the 6th International Polar Salon in Liberec in 2022.
What is a polar salon and what can visitors expect at an exhibition of polar philately?
Polar philately consists of philatelic material with a polar (Arctic and Antarctic) character. It is an organized international philatelic activity since the mid-1950s. At the exhibition it is possible to see materials from this area, which is interesting not only for those who deal with it, but also for those who want to learn more about polar history. Both parts, the North and South Poles and their surroundings, may seem at first glance unattractive to those who do not know their history. But the opposite is true. Polar philately includes expeditions of all kinds, parts of aerophilately and military postal history, thematics, ie polar oriented subjects or geographics, ie subjects from traditional polar places. Visitors will see exhibits from these five main categories in a wide range from the earliest postal documents to interesting current presentations of polar topics. It will simply be a unique opportunity to see extraordinary polar materials at one place.
What is the connection between the "Polar Salon" exhibition and the countries where the exhibition is held?
International polar philatelic exhibitions are held regularly in various countries, usually in countries with a strong polar expeditionary history and a tradition of polar and collecting activities, such as France, Germany, Monaco and Denmark.
But we also have important collectors of polar philately. In addition, the Czech Republic has been making considerable efforts in the field of polar research for decades through the scientific activities of the Czech Antarctic Research Infrastructure, which also includes its own polar stations – on the coast of James Ross Island there is Johann Gregor Mendel station, on Nelson Island there is planned the construction of a new research station CZ * ECO Nelson on the place of original station. They are part of the Center for Polar Ecology.
What are the highlights of the upcoming exhibition?
The Polar Salon will present polar philatelic exhibits of extraordinary significance comparable to the most interesting items that occur in general philately. Unique materials will be exhibited here, such as the first letters from the Antarctic region, where scientific research was part of the expeditions of seal hunters and research expeditions from the early 19th century, such as the Ross Antarctic Expedition. You will also see rare documents from the Belgian Antarctic Expedition and its first planned wintering in Antarctica (late 19th century). You will find complete materials documenting the first French, German, British, Swedish and Scottish Antarctic expeditions (early 20th century). The oldest known philatelic material from Greenland (18th century) or material showing the oldest transit of the Northwest Passage (in the middle of the 19th century) will also be interesting. However, there will also be interesting exhibits with more modern material.
Why is polar philately so fascinating and what attracts people to it?
That is a good question. One category of this material is described as "archival". These are items full of history that you could expect in museums and archives as an important historical artifact. The fascination with this material gives it appeal beyond what can be found in their basic postal nature. But even modern polar philatelic material has an added touch of adventure and the secrets of the polar regions. Perhaps the very demanding environment of the polar regions evokes a feeling of physical and emotional danger in someone. More than 100 years ago, Robert E. Peary, an explorer and first at the North Pole, replied to the question of why he was continuing his research in the Arctic, that he had signed a contract with the "Arctic Fever." The polar philatelic material is also interesting because almost no items have been cataloged and therefore a large amount of information is difficult to access for the general public. In addition to the existing unique types of materials, new discoveries are made every year (especially the postal history from the early polar expeditions). In some cases, some polar expeditions would be completely unknown today without this philatelic material. Just as it is difficult to live in the polar regions, so it is difficult to find most of the historical philatelic material. And this may make polar philately so attractive to all.
What special will the polar salon represent?
There will be polar exhibits not only from all over Europe, including the Czech Republic, but also from the USA, Australia and other countries of the world to demonstrate the splendor and appeal of polar philately.
There will be mostly exhibits from the so-called heroic age of both polar regions, which was the era that began at the end of the 19th century and ended after the First World War. The Shackleton-Rowett expedition in 1921-22 is often given by historians as the dividing line between the heroic age and mechanical age.
Each of these expeditions became a test of perseverance, testing and sometimes exceeding the physical and mental limits of its members. In the 1930s, expedition equipment began to change, not only in terms of equipment and facilities, but also technical and technological equipment, which was to facilitate exploration of Antarctica in the future.
On the following pages there are some of the unique examples from polar history:
The first official letter from Antarctica recognized in the study of the Antarctic region
Captain Charles Jonathan Winship writes to his father (manuscript) from Potter Cove, the South Shetlands on 21 February 1821 that he arrived at O'Cain Harbor (named after his ship) earlier to begin sealing.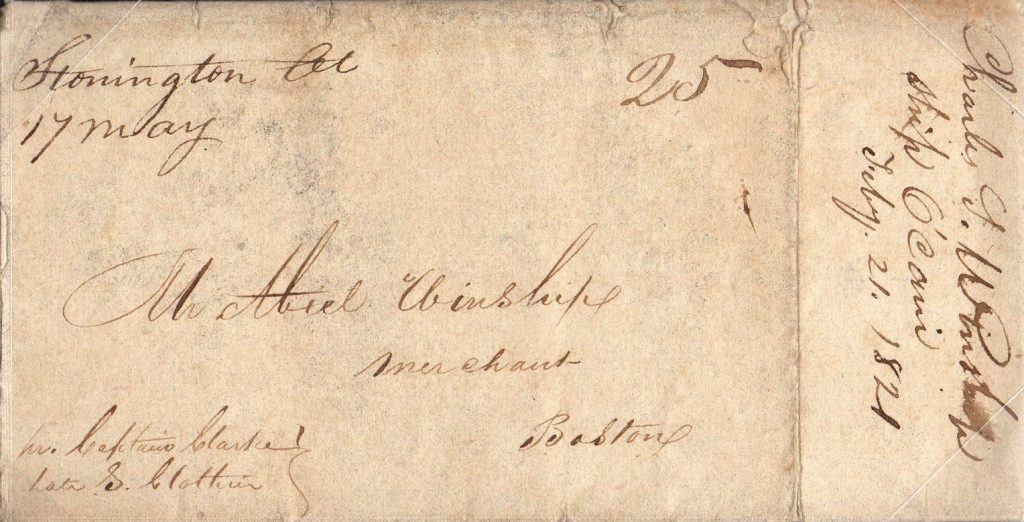 There will also be material from the French polar explorer Dumont d'Urville who helped to confirm the discovery of the Antarctic continent.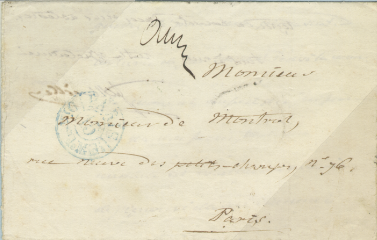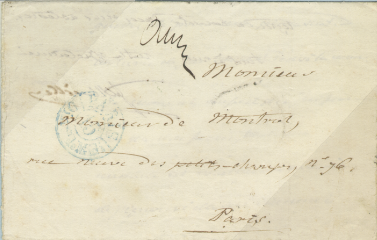 Dumont d'Urville with two ships (Astrolabe and Zélée) went to Antarctica twice during a three-year scientific voyage to the South Pacific (1837-38, 1839-40).
1838-42 "Wilkes Antarctic Expedition" (USA)
Expedition Commander Charles F. Wilkes writes a folded letter to his wife in Washington, DC (February 20, 1842). He announces that a long scientific study in the Pacific will follow after exploring Antarctica and announces that he will return to the United states soon.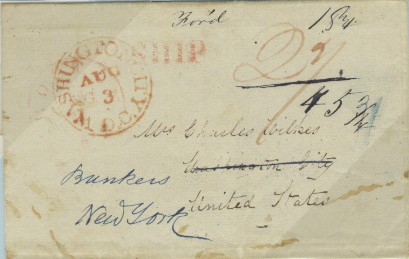 Englishman James Weddell – research and seal expedition in Antarctica (1822-24).
In February 1823 he reached 74 degrees South. It was the furthest south ever and today this sea is named after him.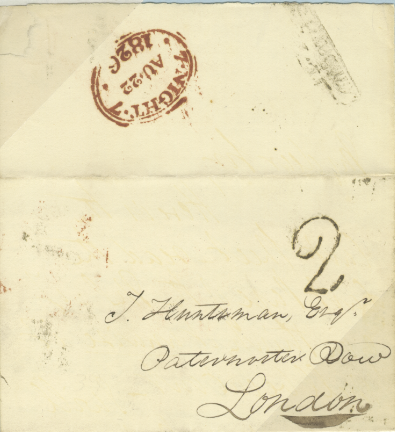 1839-43 "British (Ross) Antarctic Expedition"
This is the earliest known concessionary letter from the Falkland Islands and one of the earliest known letters from Antarctic exploratory expeditions (the only preserved letter sent from Ross's expedition).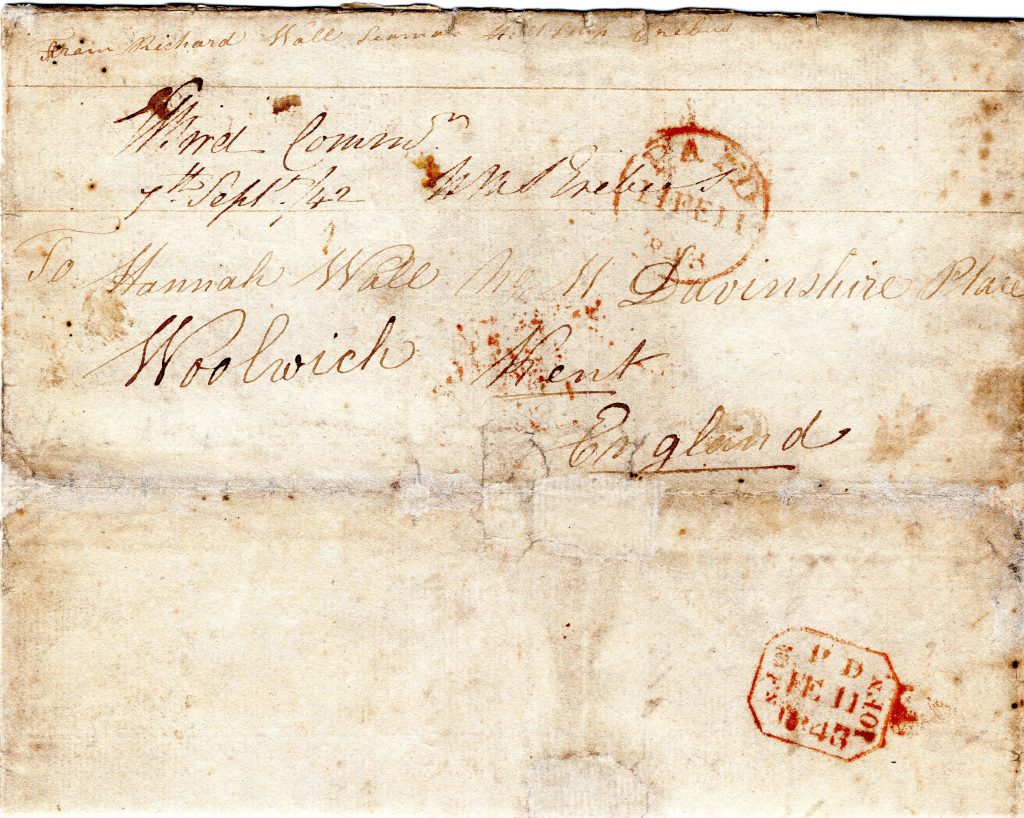 1897-99 "Belgian Antarctic Expedition" – the first scientific expedition in Antarctica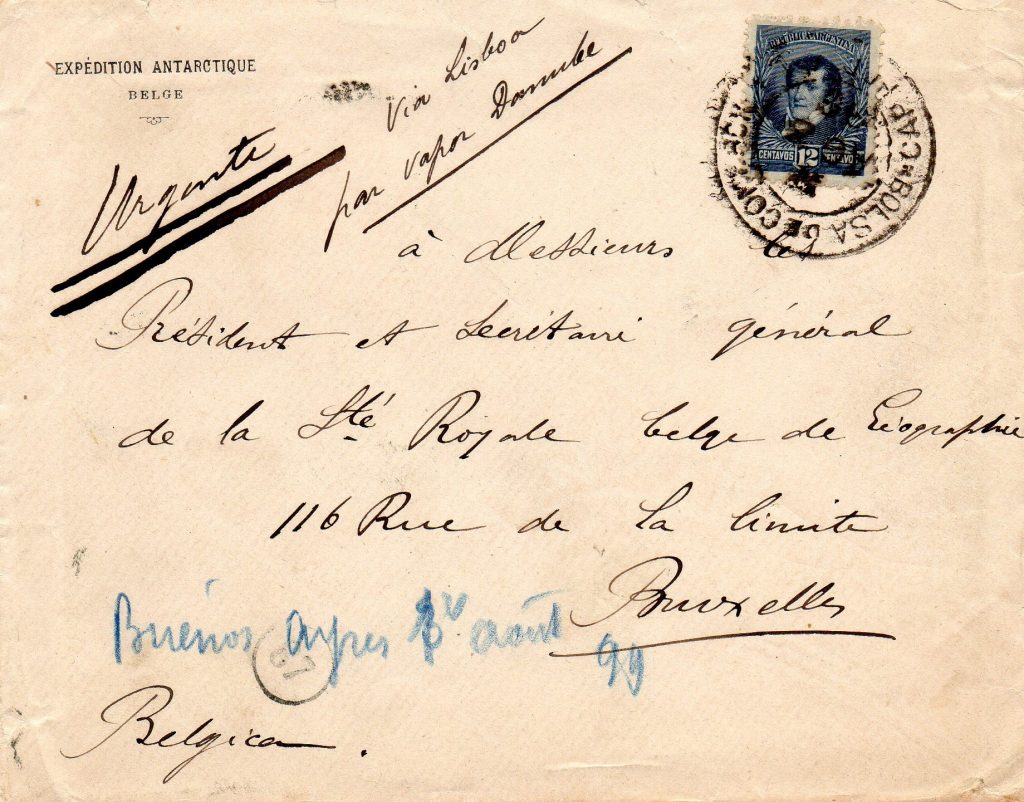 Of course, two famous competitors on their way to the South Pole must not be missing.
1910-12 "Norwegian (Fram) Antarctic Expedition" (Roald Amundsen)
"Fram-Expeditionen" printed envelope sent by expedition leader Roald Amundsen to his brother Gustav at Kristiania. "Sent by R. Amundsen from the South Pole journey", sent from Buenos Aires on 22 April 1911.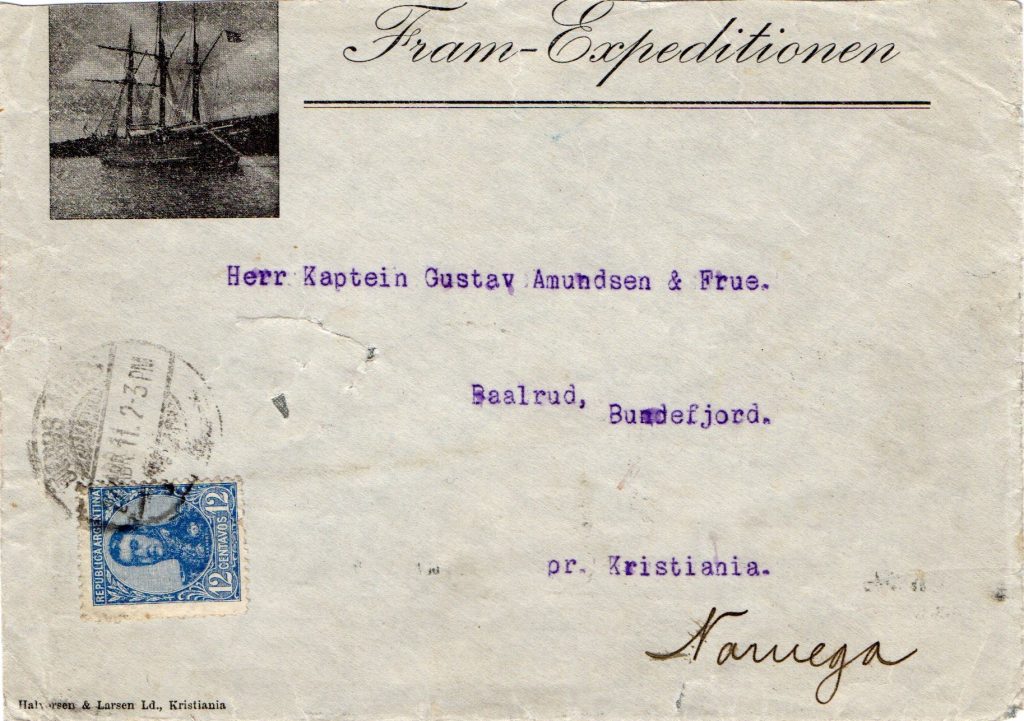 1910-13 British (Terra Nova) Antarctic Expedition
Captain Scott canceled this cover at Cape Evans, 9 February 1911, with the expedition post office's postmark and used special expedition postage stamp (overprinted by NZ) .