Collector's EXPO
You can buy the German Post's postcard k issued for the European Stamp Exhibition LIBEREC 2022 plus the best of its issue programme at the Collectors' Expo accompanying the exhibition at the Babylon Hotel.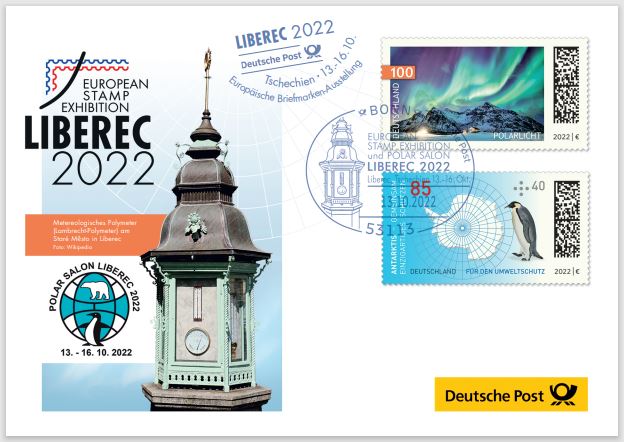 In addition to the German Postal Administration or the Czech Post's exhibition, the Expo will also feature the Indian Post Office, the Felzmann auction house from Germany and Feldman from Switzerland. A large selection of stamps from all over the world will be offered by Holger Tietz from Germany, Tristain Brittain from England or the important French philatelic dealer Vincennes.
The book "Stamps – a hobby or an investment?" you will be able to get it signed directly from its author Radek Novák at the sberatelshop.cz stand throughout the event.
The European Stamp Exhibition LIBEREC 2022, which is held under the patronage of FEPA with the recognition of FIP, is one of the most important philatelic events of this year. The expected size is 1200 exhibition frames.
The event will be accompanied by the associated exhibition Polar Salon LIBEREC 2022, an international polar philatelic exhibition held every three years in various locations around the world.
The organisers expect a massive turnout of visitors from collectors and the general public from home and abroad.
The legendary red Mauritius and Czechoslovak unique stamps from the collections of the Postal Museum will be on display.
Rare letters and postal documents from the period of the conquest of the poles will be on display at the Polar Salon, including signatures of famous polar explorers such as Roald Amundsen.
The event will also be accompanied by a rich supporting programme including autograph sessions and public tours of the most interesting exhibits led by leading experts.
The European Stamp Exhibition LIBEREC 2022, the Polar Salon and the Collectors' Expo are all located in one place at the Wellness Hotel Babylon. The Expo is organised by Double Impact s.r.o., the agency that organises the international fair Collector in Prague and provided the Expo for the World Stamp Exhibition PRAGA 2018.
---
For exhibitors: www.liberec2022.eu/en/expo-for-exhibitors/
For visitors: www.liberec2022.eu/en/expo-for-visitors/
---