Rare Polar Stamps
The stamp HMS Glasgow error is a 6d postage stamp error produced by the Falkland Islands in 1964. It commemorates the 50th anniversary of the 1914 Battle of the Falkland Islands.

The design error featured the incorrect ship, HMS Glasgow, instead of HMS Kent which should have been used. Apparently one sheet was sent to a stamp dealer in the United States who did not notice the mistake. It is believed that only the one sheet of 60 stamps was produced and only 17-25 stamps have been recorded.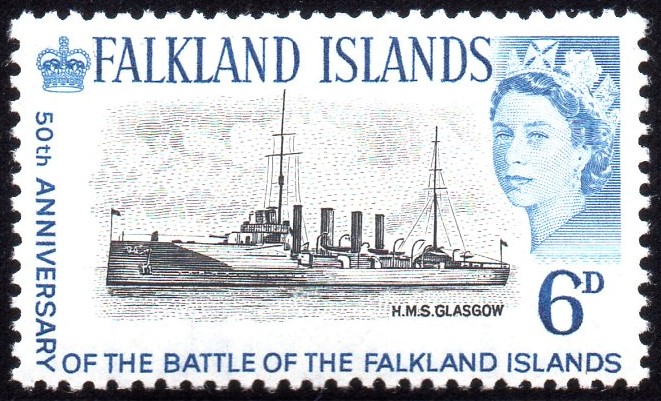 On December 8, 1964, the Falkland Islands issued a set of four stamps to commemorate the 50th anniversary of the World War I Battle of the Falkland Islands. A decisive naval victory for the British, the battle resulted in the deaths of over 1,800 Germans, including Admiral Maximilian von Spee. Perhaps the most major impact of the battle was the end of the German East Asia Squadron, which was Germany's only permanent overseas naval formation.
All four stamps featured a colored frame with Queen Elizabeth II and the inscription "50th ANNIVERSARY OF THE BATTLE OF THE FALKLAND ISLANDS." The 2½d stamp has a vermilion frame and depicts the H.M.S. Glasgow. Actually the sixth ship to bear that name, the Glasgow that participated in the Battle of the Falkland Islands was a cruiser built for the Royal Navy in 1909. The 6d stamp, with a blue frame, shows the H.M.S. Kent, an armored cruiser launched in 1901. The 1sh stamp has a carmine frame and shows the battlecruiser H.M.S. Invincible, which was sunk less than two years later at the Battle of Jutland, while the 2sh stamp is dark blue and features the Falkland Islands Battle Memorial.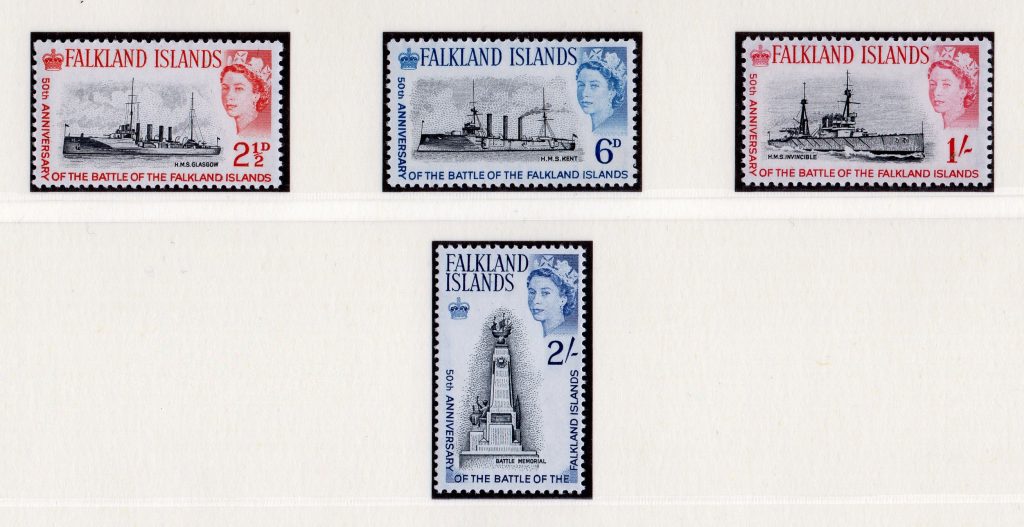 History of finding a faulty stamp – The HMS Glasgow error
In 1968, nearly four years after the stamps were issued, a man named Fred Graham of Illinois bought the full set of four stamps for his son for $1.25. Upon close inspection, he noticed that the 6d stamp featured a vignette of the H.M.S. Glasgow rather than the H.M.S. Kent. While it seems shocking that such a major error could go undetected for so long, the similarity in the designs of the 2½d and 6d stamps makes it somewhat understandable.
Like many bicolored stamps, the black centers were printed first, followed by the colored frames. It is speculated that a sheet of the H.M.S. Glasgow vignette must have fallen to the floor and was then replaced in the wrong pile of sheets. As the designs of the two ships were similar, the printers did not notice their error and the stamps were printed and perforated as normal. This issue was produced in sheets of 60 stamps, but current estimates place the number of known examples between 17 and 25.