News
European Stamp Exhibition and Polar Salon "LIBEREC 2022" is organized by Svaz českých filatelistů, z.s. (Union of Czech Philatelists) in cooperation with club "Evropská výstava poštovních známek LIBEREC 2022, z.s.", established for this purpose under FEPA patronage and with FIP recognition.
Venue: Wellness Hotel Babylon https://www.hotelbabylon.cz/en/
Date: October 13th – 16th, 2022
Exhibition size: 1200 exhibition spaces
Recommended accommodation: Wellness Hotel Babylon https://www.hotelbabylon.cz/en/
---
February 23rd 2021 – the exhibition has received the Fédération Internationale de Philatélie (FIP) recognition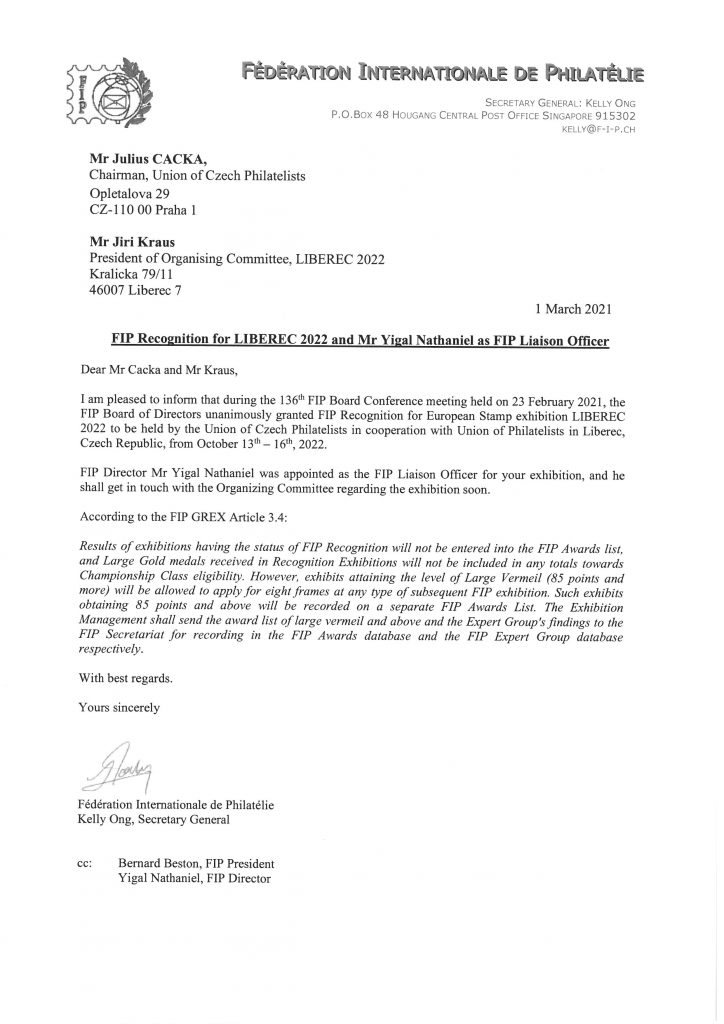 February 11th 2021 – the history of polar philately exhibitions has been added. It contains samples of the rarest postal documents.
January 14th 2021 – the talks with Czech Post have begun regarding a possibility of future cooperation. In the evening hours we talked with FEPA consultant Igor Price about future cooperation.
January 10th 2021 – during yesterday's FEPA meeting we have received the FEPA patronage over our joint exhibition LIBEREC 2022.
January 9th 2021 – the logo of affiliated exhibition POLAR SALON LIBEREC 2022 has been added.
January 9th 2021 – we are talking with FEPA about a possibility of its patronage over LIBEREC 2022 exhibition
December 2020 – we have talked with the Governor of the Liberec Region Mr. Martin Půta and with the Mayor of Liberec City Mr. Jaroslav Zámečník.
October 13th 2020 – we have received the patronage of Académie Européenne de Philatélie