German South Polar Expedition, 1911-13
Wilhelm Filchner, GSPE Leader, arrived South Georgia on Deutschland on 21 October 1911 to refuel with Cardiff coal and left on 11 December 1911 for Antarctica. Their demands for stamps were considerable, especially those for postcards, sales of which, plus Expedition vignettes, both helped fund the expedition. GSPE revisted South Georgia on their way home.
It is not widely known that not all expedition members supported their Leader Filchner, preferring to side with Deutschland's Capitan Vahsel until his death in August 1912. Command of the ship devolved to Wilhelm Lorenzen, again no friend to Filchner. Filchner recorded "acts of violence amongst the members of the Expedition" and the assistance rendered on board by "the British Chief of Police" upon returning to Grytviken. Filchner disembarked those, including former First Officer, now Deutschland's Captain, who had opposed him.
Reaching South Georgia on 19 December 1912, Filchner had to enlist help from Larsen's whalers for protection.  Some of his crew "appeared intent on physical violence" and had to be housed off-ship onshore.  Filchner appointed Kling to take over the command of Deutschland and departed with a smaller but loyal crew on 23 December 1912 via Buenos Aires for Germany.
1912 (December 30) Expedition Postcard to Germany with 1d tied by SG1 datestamp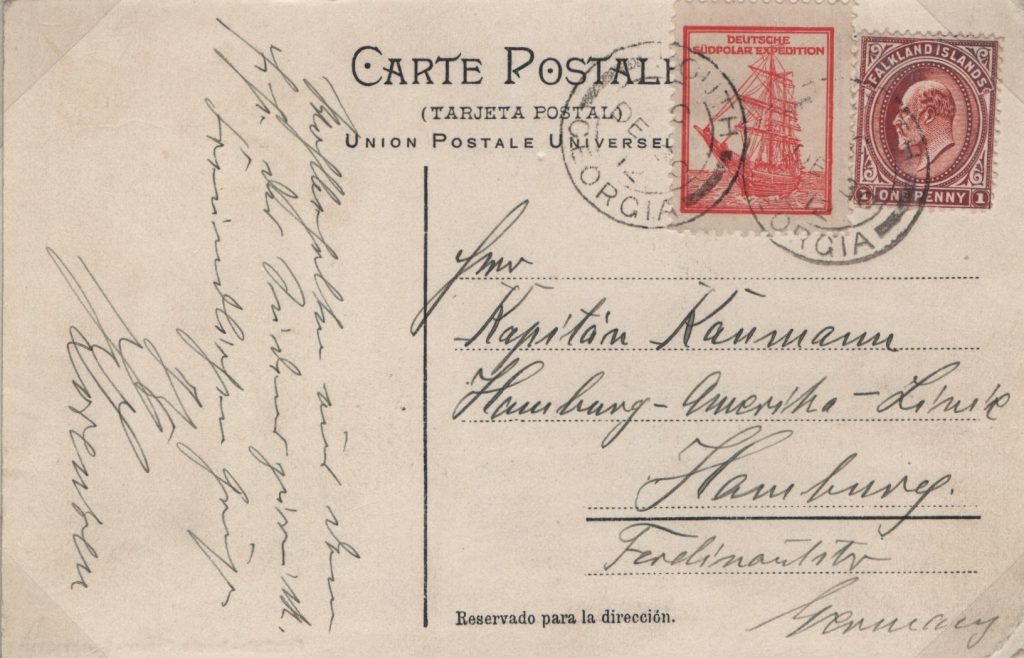 The dissident group opposing Filchner was abandoned into the care of Captain Larsen. Information recorded in the diary maintained by Expedition Meteorologist Dr Erich Barlow relates the men departed South Georgia aboard SS Harpon on 11 January 1913 to arrive Buenos Aires on 20 January. There on 23 January, they embarked SS Cap Viano, berthed Lisbon 9 February and arrived Hamburg by train on 13/14 February 1913.
This postcard is claimed unique: the only known postal item from one of GSPE's dissidents left on South Georgia